Merletti Aerospace: Impresa 4.0 in Varese
Whether it's the aerospace, cosmetic or chemical sector, it doesn't matter. The Varese companies are also investing time and resources ...
Last summer Merletti Aerospace was chosen among the companies in the province of Varese to be subjected to a careful analysis conducted by the DIH - Digital Innovation Hub Lombardia in order to verify the positioning of our company in the manufacturing reality of Varese.
"The digital transformation, innovation from a 4.0 perspective, the ability to manage more and more operational phases at an IT level, generating real interconnections between the work centers themselves and the ERP management systems, has represented and still represents a considerable part of business investments – racconta Ivan Zingaro, Responsabile Amministrativo dell'azienda. Through digitalization and interconnection we are able to manage better and faster operations, as well as improve the planning of workloads".
The analysis conducted on maturity for macroprocesses covered numerous issues, from production, to quality, to design, to logistics, to maintenance. Obviously, the activity of Merletti Aerospace has focused on the Design / Engineering, Quality and Production Areas, with levels that are well above the regional average.
As can be seen from the graph below, the result of Merletti Aerospace and that of the Mechatronics sector was compared.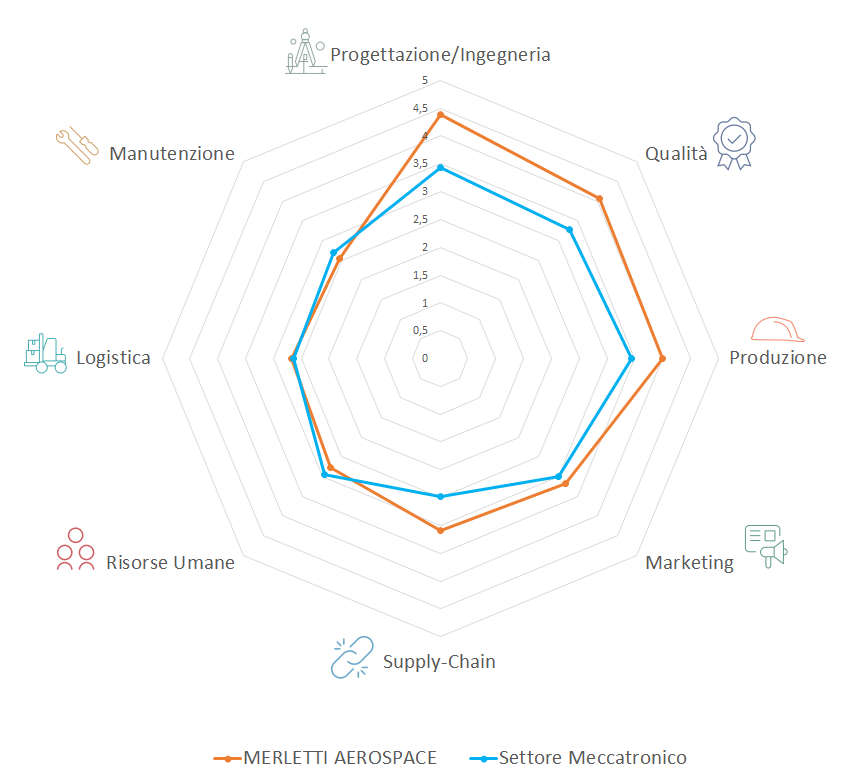 "The Assessment confirmed, on the one hand, that the path we have taken turns in the correct direction, obtaining an average score of 4.15 out of 5 in the design / engineering, quality and production macro-processes. On the other hand, it has allowed us to obtain valid food for thought to improve our internal system even more", afferma Zingaro.
We are delighted, like Merletti Aerospace, and for this we thank UNIVA and DIH Lombardia, to have chosen our reality to conduct this analysis on the territory and to have collected the video testimony presented at Palazzo Lombardia on 10 March last.
Link to the article written on VareseFocus: Impresa 4.0 a Varese